Steel Building Garages is proud to offer building financing for all of our prefab garages and other great products!
We've partnered with Citizens State Bank to offer loans up to $25,000 for qualified customers. It can be difficult to find a building financing for a pole barn or prefab garage. Most pole barn prices are lower than what a commercial bank will finance, and unless it's a addition to your home, construction loans won't help you figure out how to finance a new structure. That leaves home equity or a second mortgage, which is a headache, when all you're doing is building a garage.
---
---
It's a little rough, figuring out how to piece together financing for pole barn construction or prefab garage. Our goal at SBG is to give customers the most affordable way to add value with a new garage, shed, carport, or metal barn. That's why we've added financing to our services, and we hope you take advantage of it.
Here's how we lower the cost of building a garage:
---

Sell factory-direct to provide the best garages and pole barn prices.
Steel Building Garages manufactures our garages in our Wilkesboro, North Carolina factory, using 100% American Galvalume steel.  Avoid paying the distributor upcharge, and get the best garage prices from the get-go.
---
---
Provide full turnkey installation.
All of our steel buildings are sold, delivered, and installed for a single price. You'll save on your prefab garage  by packaging everything together, and avoid hidden costs and unexpected fees. And our designs are also simple enough that you'll be able to do simple repairs yourself.
---
---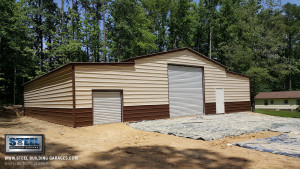 Offer signature loans for building financing.
We realize that a business, farm, or home sometimes needs credit to move forward. Sometimes monthly payments are doable when a large upfront payment isn't, especially when you're running a business or need one immediately. We provide the option to finance your steel building directly, without jumping through hoops. You can get the space you need quickly, and pay it off over time. There's no prepayment penalty for our prefab garage loans, so you can refinance or pay the balance off at any time.
---
You could save for years and wait to pay for the building you need upfront. But sometimes life demands that we move more quickly. If a steel building will let you make or save money, then it makes sense to get it up as quickly as possible. Find out more about how to finance a metal building with us to get your project started, and read on for why our buildings are awesome investments with the potential to pay for themselves.
---
A Prefab Garage Increases Home Value
Our detached prefab garage installs are one of the fastest ways to add value to your property. By adding usable square footage to the land, your home becomes more attractive to buyers and appraisers when it's time to sell. In the meantime, extend the lifespan of your cars, tools, and other assets with a durable steel storage building.
Our sheds and prefab garages are excellent options for savvy homeowners looking to add space and equity to their land. A little real estate knowledge: permanent structures are fixtures, which are included in the land value. Fixtures typically transfer along with the land when it is sold, but there may be situations where a buyer doesn't want the fixture. Our modular prefab garages are easily dismantled and removed if need be, and covered by our 35 year warranty if not. Either way, you're able to get value back out of our garages, carports, or sheds years later.
When you build a garage, it's an investment in your future that you can use in the meantime. With building financing available, you can add value to your land without ever disturbing your normal cash flow. Talk to us today about how we can increase your home value with a custom prefab garage!
---
---
Building Financing for Steel Pole Barn Packages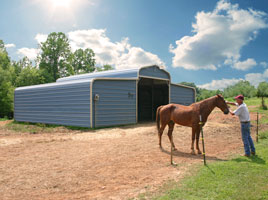 Steel Building Garages has sold steel buildings for over thirty years, and metal pole barn packages are one of our signature products. You won't find better steel barn prices anywhere in the Southeast. We custom suit all of our metal building quotes to your specifications. Our financing offers through Citizens State Bank covers barn loans as well. It's easier to get a new barn up and working than ever, which means more potential income from your farm or rural business. With our low rates, it's possible to make more money each month than you'll make in monthly payments. And with no pre-payment penalty, you can refinance your steel pole barn loan after your building is delivered.
Our versatile steel pole barns and shed installs are suited for a number of agricultural purposes. We have customers using their pole barns for livestock and equipment storage, sheds for hay bale storage. Our metal buildings are fully customizable as well, so you can combine your family vehicle storage and farm storage into a multi-section building. There is also a great opportunity here to tap into the growing agritourism market. Our buildings make great pavilions, customer welcome centers, parking areas. We'd love to see someone build one out as one of these new Barndominiums, and rent it out by the night.
If you're using our models for agritourism or another creative use, we'd love to hear about it! Get started with a conversation today, and together we can build more income streams into your farm with our prefab steel pole barn packages.
---
 Apply for Metal Building Financing today!
Whether it's a residential, commercial, or agricultural project, we have building financing to help you get ahead. Our customizable buildings come in an array of dimensions, designs, and finishes. Call us today to have your questions answered, and inquire about our new financing options. We've happily helped thousands of homeowners and farmers add buildings to their land for the last thirty years. With steel building financing, we solve a problem for anyone looking to purchase a prefab garage or steel pole barn.
Contact us today. Steel Building Garages offer the best prices on metal buildings with financing. Our building advisers are ready to work on your project.
---
---