[rad_page_section id='rpsFNBRSDY4FTJE479KQ08TLK16S5OLQLCX' first='true' last='true' section_name='Section' v_padding_top='0′ v_padding_bottom='0′ classes=" visibility='None' layout='Contained' background_opts=" background_color=" bg_opacity='100′ background_image=" background_position=" background_cover=" background_repeat=" background_attachment=" background_gradient_dir=" start_gr=" end_gr=" video_url=" video_pos='middle-pos' video_fallback=" ov_use='no' ov_opacity='60' ov_background_color=" ov_background_image=" ov_background_position=" ov_background_cover=" ov_background_repeat=" ov_background_attachment=" ov_use_gradient_dir='no' ov_background_gradient_dir=" ov_start_gr=" ov_end_gr=" border_top_width='0′ border_top_color=" border_top_type=" border_top_opacity=" border_bottom_width='0′ border_bottom_color=" border_bottom_type=" border_bottom_opacity=" ][rad_page_container id='rpcWVIII502G5T4ENXK3E6W2XE4LJ8KOBDQ' layout='full' first='true' last='true' top='true' classes=" visibility='None' float='left' background_opts=" background_color=" background_opacity=" background_image=" background_position=" background_cover=" background_repeat=" background_attachment=" background_gradient_dir=" start_gr=" end_gr=" border_top_width='0′ border_top_color=" border_top_type=" border_bottom_width='0′ border_bottom_color=" border_bottom_type=" use_margin='no' margin_top='50' margin_bottom='50' ][rad_page_widget id='rpwDQV23J1OBMYDEPPX45UYWBP97QSOSKPW' type='rad_text_widget' layout='full' last='true' col_style='none' top_image=" image_resize='default' height='300′ auto_width='yes' width='400′ text_title=' ' text_subtitle=' ' rich_key='text_data' col_link='none' custom_link=" video_link=" image_link=" button_label=' ' visibility='none' delay=" icon=" icon_hidden=" icon_margin='0′ box_hover_color=" title_color=" subtitle_color=" text_color=" link_color=" title_size=" title_w=" subtitle_size=" subtitle_w=" text_size=" tt_margin=" st_margin=" tet_margin=" ]
"The installers, Rodney, Michael, & Walter all worked very well together and did an A+ job on our garage. Would highly recommend this team to do anyone's work!"
24′ x 41′ x 14′ Custom Steel Garage
Kind words from Richard Cropp, the newest proud owner of a custom building from Steel Building Garages! Richard worked with our building advisers to design the exact building he needed, and took advantage of our free delivery and installation, included with each building. 
All of our buildings are 100% American made in our Wilkesboro, North Carolina factory. That allows us to customize each building kit to exact specifications, so you don't have to compromise on the functionality you need. We can make buildings with irregular dimensions, asymmetrical doors and bays, and other features that set Steel Building Garages apart from our competitors.
Custom Steel Buildings
For Richard's building, we built a 24′ wide by 41′ long garage structure, with 14′ ceilings. We added two different sized garage doors to the front, a single roll up door on the back, and a fourth on the right side, so he can access the building from any angle use it for exactly what he needs.
What could you do with a custom steel building like Richard's? Our customers have turned our models into everything from airplane hangars to man caves, from single family homes to livestock barns. All over the country, you'll find our premium metal buildings being used for a huge range of purposes. In a few weeks from your order, you can have a brand new space as well. What could a new facility do for your business, farm, or home?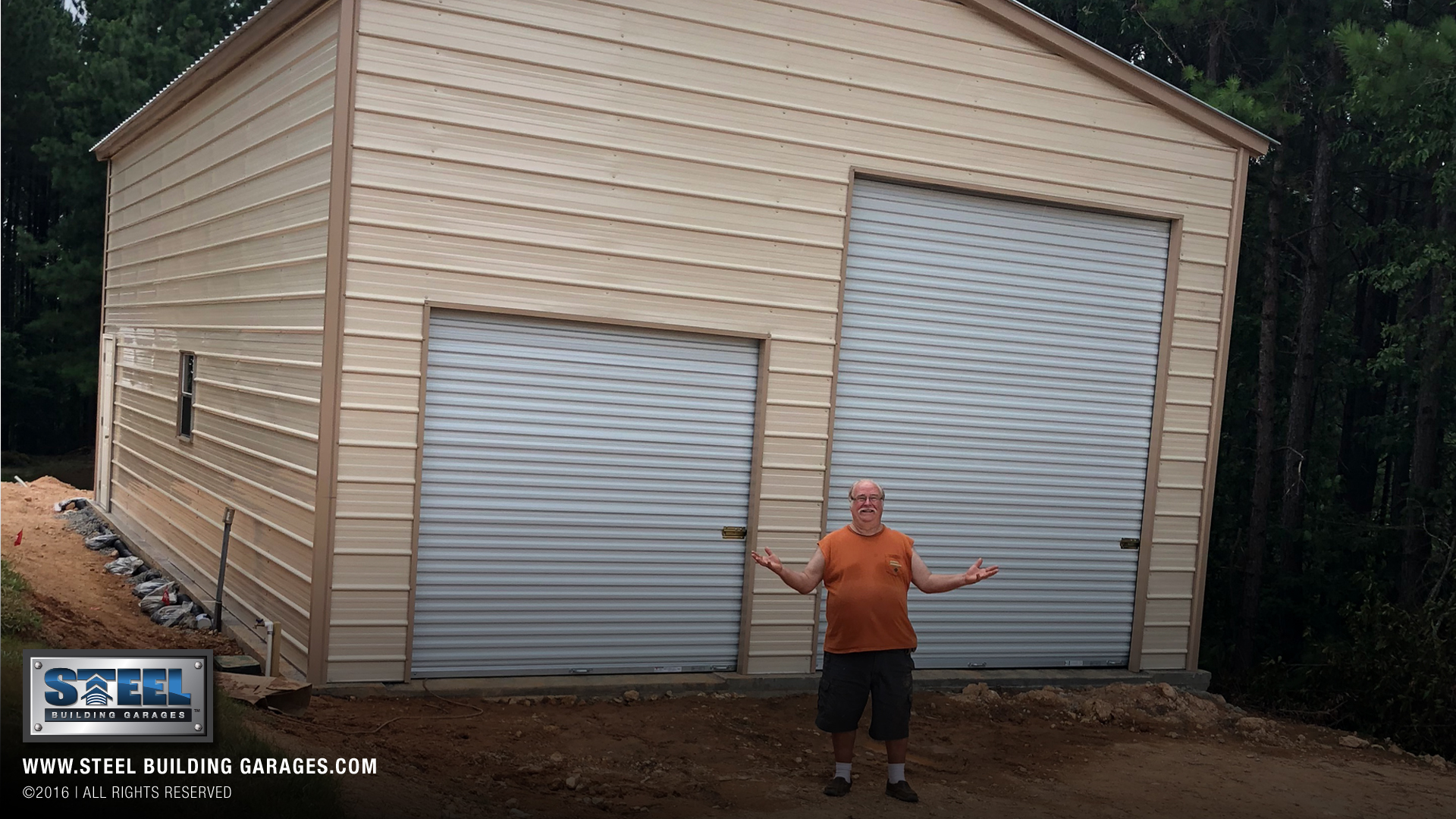 Making Steel Buildings Affordable
Steel Building Garages offers financing options as well. You pay a deposit to ship your building, and pay off the rest with easy monthly payments, so you can get your building up quickly. This adds flexibility for our customers on our already low prices, so you can get your building and start using it as soon as possible.
Give our building advisers a call for your steel building instant pricing today. All of our prices include both delivery and installation, anywhere in the lower 48 states.
Our passion is in helping people all over America customize and install buildings for their business, home or farm. We'd love to help with your project, and promise the highest quality of product and service! Get in touch today or find out more about our products and their uses with the links below.
[/rad_page_widget][rad_page_widget id='rpwUE33QV8LIIHJ2LUL3AFCD9KPES5HSIHC' type='rad_one_menu_widget' layout='full' last='true' type='rad_one_menu_widget' col_link='6864′ rad_menu_sections='rpsFNBRSDY4FTJE479KQ08TLK16S5OLQLCX' rad_added_menus='7054: Request A Brochure;6996: Contact Us;7339: Schedule An Appointment;6925: FAQ;6864: Metal Building Products and Styles;' one_m='#78aae3′ one_m_item_c=" one_m_item_bg=" one_a_item_c=" one_a_item_bg=" ][/rad_page_widget][/rad_page_container][/rad_page_section]