Americans were born to travel. Call it a continuation of modern-day Manifest Destiny or an infatuation with the unknown mystique of hitting the open road, Americans log more hours on the highways than ever before. Transient lifestyles and the insatiable thirst for exploring wide-open corridors was the driving force behind the creation of the Interstate system, which connects every city nationwide. Going back to the covered wagon era, wide-eye travelers with an itch for new horizons have pulled up stakes and headed west whenever they got the itch for new surroundings. Roughing it on the open trail, however, was left in the bygone pioneer days as large recreational vehicles allowed these road warriors to hit the open road without ever leaving the creature comforts of home. But RVs come with a ton of upkeep. While westerners aren't getting bogged down in the mud or repairing wheels after precariously forging white water rapids, RVs need year-round protection from the same host of elements that plagued early settlers. RV parks have become a popular destination for drivers needing to take a load off. Steel Building Garages RV shelters can protect your trusty wagons, so your golden year travels aren't besieged by costly repairs.
Steel Arch RV Garage for Year Around Protection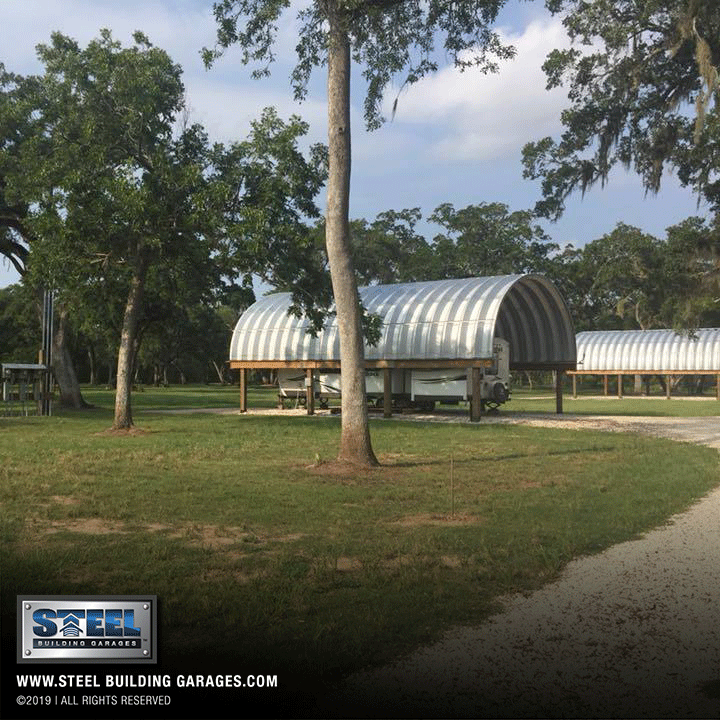 RVs are battle-tested and can rack up thousands of miles without a single misfire, but that doesn't mean that are completely impervious to Mother Nature. America's landscape is as diverse as its rich tapestry. Travelers who wake up to sunny conditions in California will hit a wall of snow by the time they reach the Midwest later that day. Constant exposure to extreme oscillating weather patterns will quickly peel away paint jobs and erode exposed undercarriages, putting more strain on vital engine components. While wear and tear is ratcheted up in fluctuating weather patterns, the real damage comes at the end of the drive when you park your RV. Persistent exposure to sunlight can damage your RV interior. Heavy snow loads and hail storms can also damage the most durable vehicles. While not on the open road, it's crucial that you keep your coachmen in a steel RV shelter.
RV Shelters Ideal for Motorhomes and Winnebagos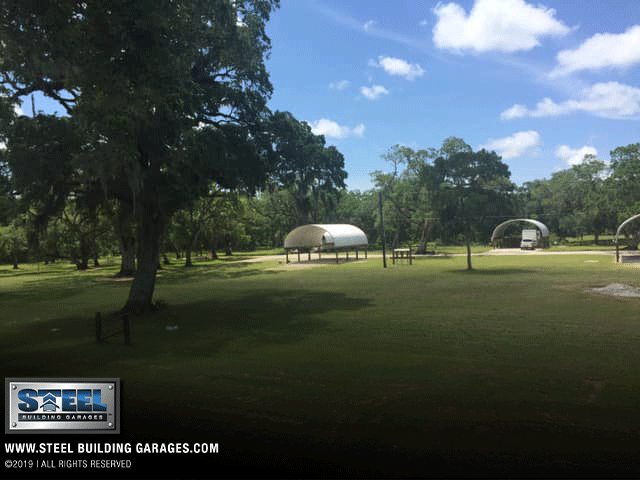 Recently, Miller's RV Park in Jones Creek, Texas installed a few new custom RV shelters. This unique shelter system was installed on a heavy timber stem wall system for a unique open-air appeal. While these steel arch shelters are not enclosed, they provide ample shade and protection from the elements for RV parking and even multiple vehicles. This sprawling park offers covered RV shelters across three acres for road-weary travelers. SBG was able to secure several large metal RV shelters to add an already well-established footprint. The added RV shelters will give RV owners extra room to stretch their legs while maintaining their valued privacy. As you can tell, these wide clear-span metal buildings give maximum coverage that won't bend or break under extreme conditions. They didn't have to contract heavy labor or installation crews, and the owner and his son installed each shelter themselves.
Prefab steel arch buildings are easy to erect and are the most cost-effective option for protecting large structures. Arches, after all, are one of the strongest building options, having originally been developed for military shelters, housing, and uses. The "arch" was originally designed and has been used since the time of ancient Rome with its superior strength for openings and access to the interior of the structure along with its appealing aesthetics. So, what makes these buildings so strong? It doesn't have any framing; how can it be strong? Each panel is the roof panel and the frame all-in-one. This strong corrugated steel comprises the overall structure and each arched panel is firmly affixed and attached to each succeeding metal arch, creating an unbreakable chain of protection, heavy snow and wind loadings, and a strong protective shelter that will last for decades. Steel arch systems actually offer hurricane-rated protection with standard construction.
From RV Shelters to automotive garages and workshops, to equipment storage, homes, and commercial structure architecture. Steel Arch Buildings are one of the most adaptable and resilient building styles on the market. Contact us today to learn more about these unique structures. You'll be glad you did!