We've harped over and over about the benefits of keeping your vehicles inside one of our metal garages or carports. Aside from keeping your vehicle safe from the elements, our metal garages be customized to fit all of your toys and designed to match the look of your home. Just like our garages, our metal barns are built to last and increase the curb appeal and property value of your home. If you're looking to add one of our metal garages to your property to keep your vehicles and belongings secure, Steel Building Garages has exactly what you're looking for. However, we do have another option that is just as versatile and dependable as our garages but with a unique look you're sure to love.
The Country Barn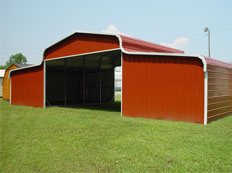 Our Country barn is a classic design that uses our regular roofing style to provide a traditional look to your new metal barn. All of our buildings can be customized with our online build tool. Enclose walls, add windows and doors, and choose which colors will best match your home and existing buildings.
The Ridgeline Barn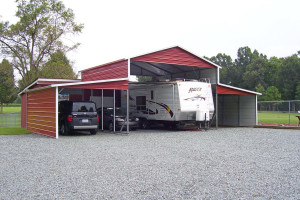 The Ridgeline barn utilizes a boxed-eave roof design and can be customized to store any large vehicles or equipment. This striking design is much more unique and eye-catching than an everyday garage and is sure to last for generations. All of our buildings can be designed according to your needs and certified to withstand wind and snow loads specific to where you live. With virtually no maintenance to worry about, your investment in a metal barn is sure to protect both your vehicles and your wallet.
The Valley Barn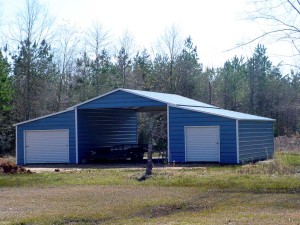 The Valley barn uses our regular roofing style, which is typically more sturdy and allows debris and snow to run off naturally. With a low profile and unique aesthetic appeal, these buildings are sure to catch everyone's eye. All of our metal barns give you the available space to store all of your tools, lawn equipment, sporting goods, vehicles, and more.
Just like our garages, our metal barns are built with American-made steel for unsurpassed quality and durability. Protecting your vehicles from the elements is vital; protecting your home's value is just as important. Buying one of our metal barns or garages to store your vehicles is an investment that will reward you for years to come.