There's no match when it comes to a well-installed steel building from Steel Building Garages. From durability and ease of construction to quality craftsmanship and attention to detail, our buildings best traditional wooden structures and dwarf the competition with decades of experience. We're not reinventing the tenets of quality engineering, but we are revolutionize the clientele relationship by giving customers complete creative control of the building experience. We not only allow, but encourage their input through every stage of the building process so the end result matches their initial vision. Like any wise carpenter will tell you, it's better to measure twice and cut once which instills a sense of confidence in each building owner that their needs are acknowledged as we furnish a state-of-the-art steel metal garage. Besides, everyone likes to play engineer from time-to-time and let each customer take reins of the building experience while providing our deft hand and skill-set to ensure no whacky incarnations take shape and that you have an admirable building is practical as it is aesthetically pleasing.
Anything Wood Can Do Steel Can Do Better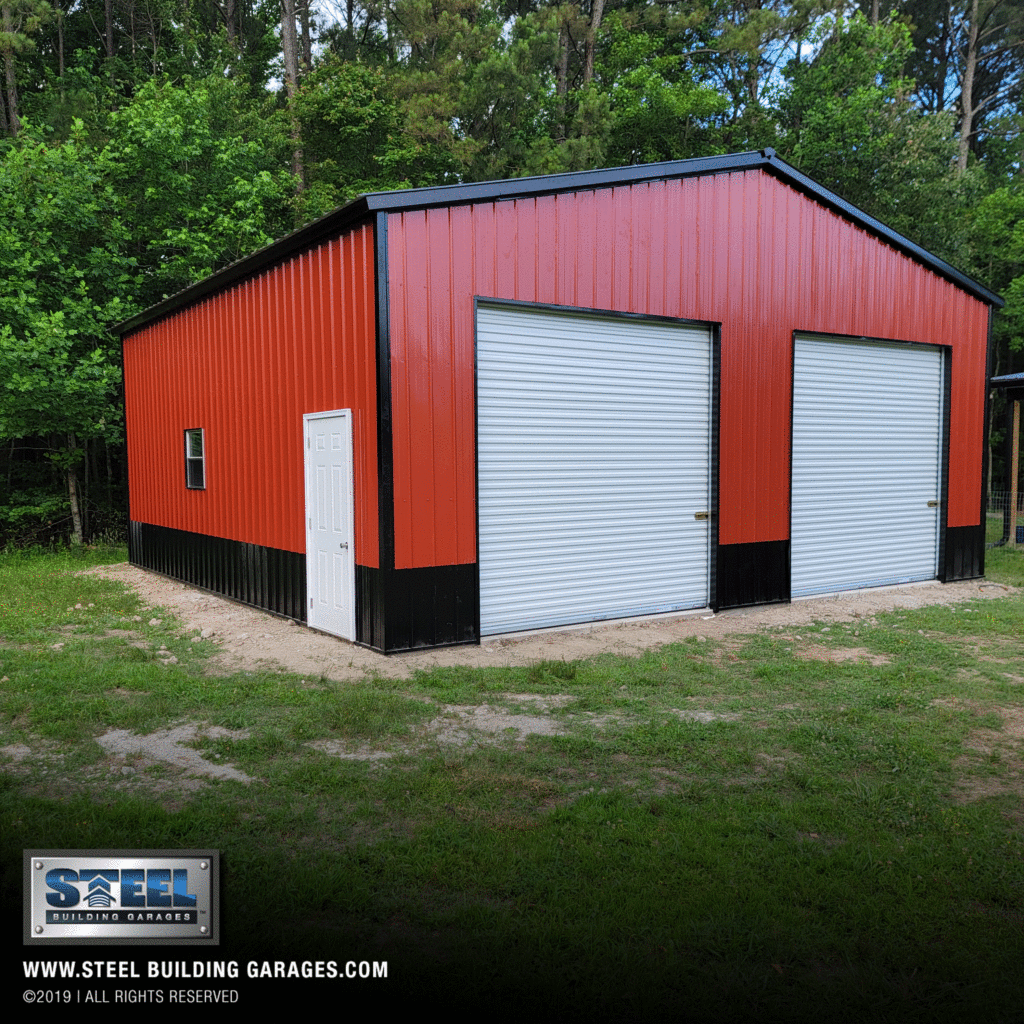 While wooden barns will always have a place in the psyche of traditional Americana, steel has surpassed this aging relic like the steam locomotive of yesteryear. Following the Carnegie steel revolution that transformed the New York City skyline with mammoth and awe-inspiring skyscrapers that touched the heavens, the rest of America's building landscape followed suit by choosing steel as the go-to building material for all projects big and small. Molten steel frames forged in inferno temperatures have modernized suburbia while accelerating the science of metallurgy so it could be accessed by everyday Americans and not just by urban tycoons. The steel stampede soon stretched out to the American hinterlands were reluctant farmers finally put their old wooden barns out to pasture. Just as they did when they traded out the plow house for a tractor, wooden barn owners yielded to progress and began a new steel family tradition. Steel is superior to wooden structures in almost every conceivable way. A steel barn can be assembled in just a fraction of the time compared to wooden barns. And don't even try to do a price comparison during this ear of inflation. The numbers simply don't add up and you will be likely spend at least three times as much once you factor in yearly upkeep. With steel, there's little to no routine maintenance as vapor barrier insulation reduces temperature fluctuation that leads to condensation and moisture penetration.
Side-By-Comparison of Proven Steel Quality
They were an outstanding crew! The professionals who installed my building were very courteous and very professional!

Marc L. of Knotts Island, N.C.
Recently, Marc L. of Knotts Island, NC asked us if we could replicate his old wooden barn with a new steel building companion. Evaluating the everchanging prices of building materials, Marc knew steel would be the better option, and he wanted a real life side-by-side comparison to not only judge the revolutions of steel engineering, but to complement his older barn that would one day inevitably come to termites or other forces of nature. We were able to perfectly reproduce his wooden barn with a new 30-x-31-x-12 metal garage. At Steel Building Garages, we took his challenge serious, as we do with every customer that turns to us to best the competition. We didn't skimp on any detail. We even went to the trouble of matching the two-tone color scheme of the original barn, which is no trouble at all when you have superior technology to engineer industry leading steel metal buildings.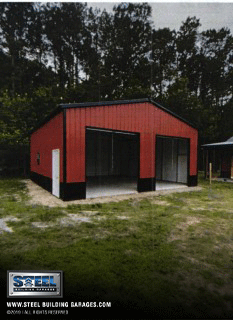 After receiving the specifications for Marc's building, our engineers went right to work to meet his exact creative vision. From there, our install crew worked quickly, but carefully in erecting the new steel barn that rivaled its wooden predecessor. When it comes to correctly installing a quality metal building, no detail is too minute or miniscule. We even made sure the screws of his metal building matched the classic, but distinct color scheme. Could you imagine silver screwheads on a red or even black set of panels? It would look like someone took a Tommy gun to your metal building and riddled it with bullet holes! It's this attentive nature that sets us apart from all competitors. We work closely with you, the customer, step-by-step, to ensure you have a building that will be the envy of the entire neighborhood!