North Carolina's climate is diverse as it's barbecue – sweet and tangy in the east and thick and hearty toward the Blue Ridge mountains. From the mountains to the sea, the Tar Heel state's weather patterns runs the entire gamut. Beach goers basking in the warm Carolina sun at Wrightsville Beach while scrolling their Facebook feeds might catch glimpses of their mountain friends shoveling out driveways thanks to the latest blow inflicted by Old Man Winter. Weather patterns can change just as fast. And while political pundits might call North Carolina the swing state for its flipping polarizing ideologies, Old North State natives will tell you it's Mother Nature's 'winds of change' that you have to worry about. There's a reason no native leaves the house without grabbing coat regardless of the forecast. Rampant and sudden changes in forecasting also require a little foresight and extra planning if one's venturing out and about. Extra layers for warmth are never a hindrance while dealing sporadic storms and weather. But what about your valuable possessions? How will you protect those when chaotic weather threatens to damage your tools, toys and weekend projects?
Year Around Protection for Any Season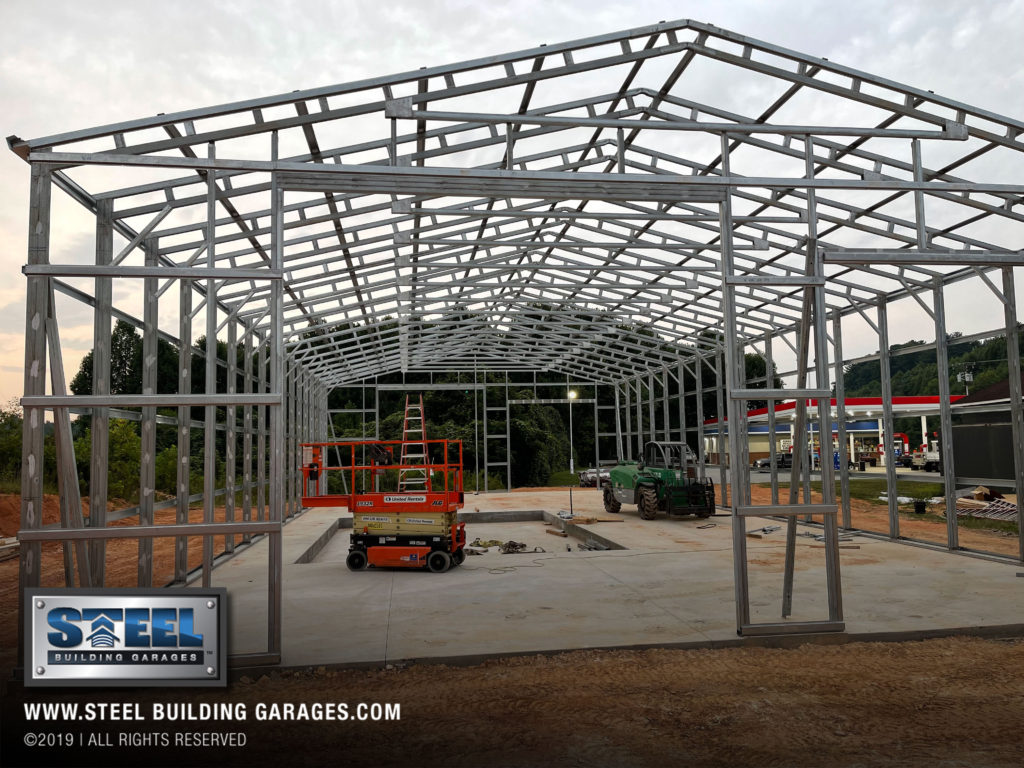 For centuries, North Carolinians relied on the old wooden barn to protect their trusty tractor, steel plows and even livestock. We can't argue with tradition. Wooden barns remain inextricable from America's agrarian heyday, but times have quickly changed. Metal continues to outshine and outperform its wooden predecessor. Metal carports and garages offer unparalleled protection for any seasonal element of chaotic weather event. Unlike wooden planks and slots, steel panels benefit from computer assisted machining that renders perfect support pieces and brackets to withstand high wind and snow loads, which the Tar Heel state is notoriously known for. And since the Carolinas feature such a dynamic and unrelenting climate, our seasoned engineers can quickly ascertain the unique weather conditions of your community and design a metal garage specifically built for your region. After all, you wouldn't expect a garage built for a customer in Hickory to withstand the brutalizing forces of a Hurricane near the coast would you? The same could be said for snow loads and designing a coastal community garage for a mountain town. We hear your specific needs and incorporate those requirements into the design phase of the project.
Another SBG Customer Satisfied With the 'Carolina Way'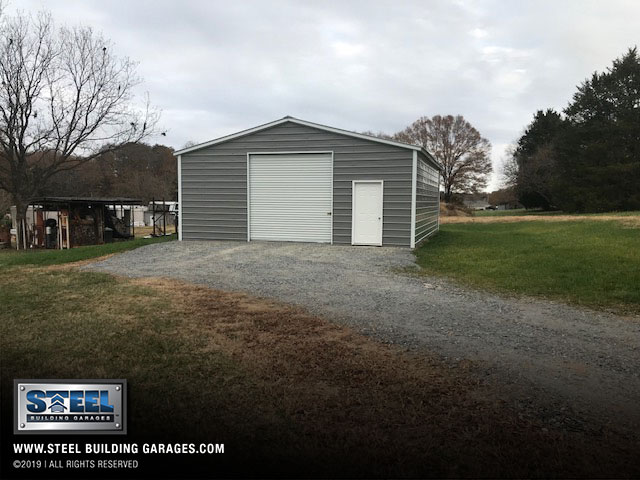 It really looks good. The guys did a good job installing it.  It's been a pleasure working with you on this project. Thanks again!
Recently, one of our satisfied customers reached out to us to share his kudos for his well-constructed 28-x-36-x-10 garage. Steve W., of Lincolnton, said he was delighted with the speed and attention to detail displayed by our install guys in erecting his utilitarian, yet charming steel metal garage. Lincolnton is located just northwest of Charlotte, so it sees a little bit of everything weather wise. Nestled in the gentle rolling foothill plain, Lincolnton routinely sees severe thunderstorms, torrential downpours and even a few pellets of hail each summer. We don't have to tell you what hell can do to a car's paint job, and insurance doesn't always pay out for extreme weather. Lincolnton, which is not too far from the Blue Ridge mountains, also sees a decent amount of frozen precipitation, so the need for year round weather protection is a must for property owners looking to secure their daily beaters or weekend thrill rides. A Steel Building Garages metal building can provide all levels of protection without breaking the bank or jeopardizing your prized possessions.