With the price of building materials reaching unprecedented heights, expansion might not be a priority for your growing business. Orders need to be secured. Deadlines must be met. While growing a successful business doesn't happen overnight, anticipation is key in exceeding customer expectations and eluding the competition. And like the old saying goes, "time waits for no man, but progress waits for man to enact it." And that's just the message a North Carolina autobody repair shop took to heart this week with the recent construction of a commercial steel building.
Car repairs are just a fact of life. We ping and ding our way through the workweek as we try to avoid the typical pitfalls of the daily commute, but accidents are unavoidable. Even the most cautious of drivers will be on the receiving end of a chipped windshield or scuffed bumper. Vigilance will only get you so far, too. How many times has a routine trip to the grocery store ended with a shopping cart leaving a large gash to your freshly completed custom paint job? Let's face it. People just don't respect the property of others. With microchip shortages negatively impacting the influx of new cars, many drivers are reinvesting in their trusty steads to extend the life of their current rides.
Commercial Steel Construction Gives Companies Max Headroom Without Increasing Overhead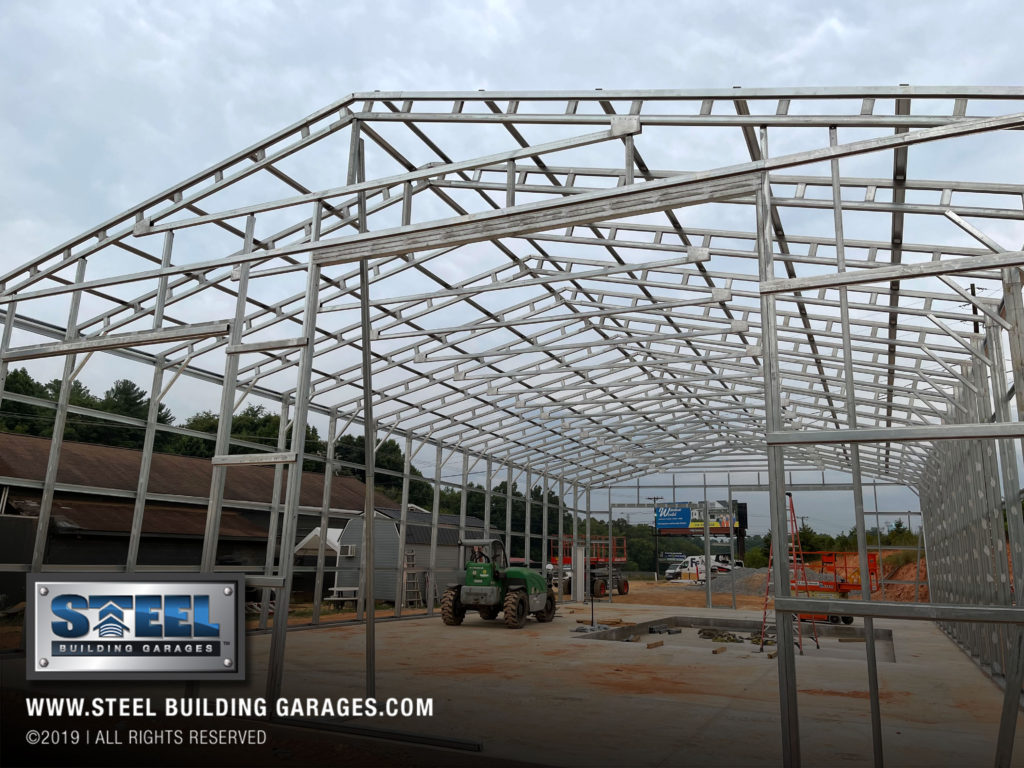 As new car sales continue to dwindle nationwide, thousands of custom repair shops are reaping the benefits of car enthusiasts looking for a different kind of "extended car warranty." With repair requests rising higher than their garage's lifts, the owners of this North Carolina autobody shop answered the call of progress by constructing two brand new commercial steel buildings. The project was completed in two phases. One 40′ x 81′ x 14′ building features two 14′ x 14′ garage bays and two complementary 12′ x 12′ doors on the front and rear sides of the building that will be able to serve vehicles of all sizes. With a 14′ overhead that is reinforced with superior steel web trusses, these behemoths will be able to service sedans and commercial vehicles of all sizes. With the sudden uptick in repair orders, these experienced welders and machinists will offset this necessary expenditure faster than they can lay down a coat of primer. Each side of the building features a 36" x 80′ primed steel door that will egress customers into a partitioned waiting room so they can see the progress of their repairs play out before their very eyes.
It's No Accident: Commercial Steel Buildings Can Maximize Your Company's Torque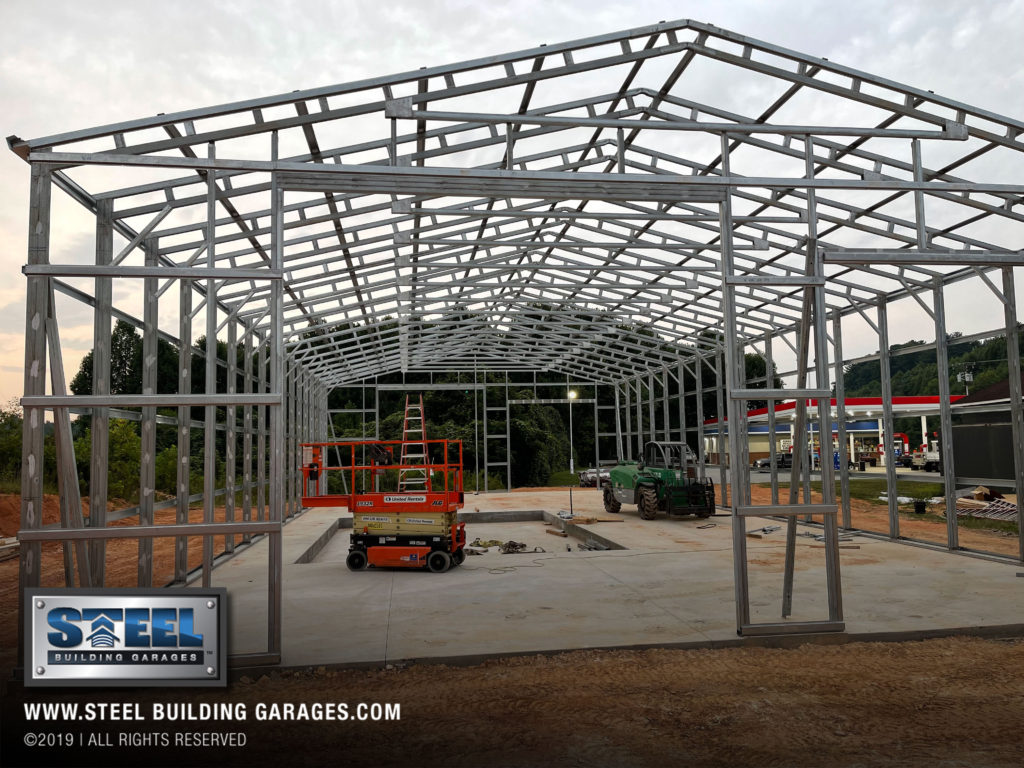 A second 40′ x 51′ x 14′ steel metal garage will certainly handle any overflow in orders. Positioned alongside the 40′ x 81′ x 14′ building, the second commercial building is similar in layout and design with four large garage bay doors. By positioning the doors at opposing ends, the autobody repair shop can streamline operations in assembly line format. As soon as a car enters one of the large garages, it can be serviced in a timely fashioned before quickly being wheeled out to make room for the next repairs. There's no doubt about it: commercial steel buildings are the collision of professionalism and advanced engineering for any trade or industry.